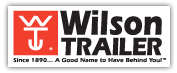 Since 1890, Wilson Trailer has been building the very best in grain trailers, livestock trailers, flatbed trailers, drop deck trailers, and gooseneck livestock trailers. Our tradition continues today with our latest line of platform trailers and commodity trailers.
Innovative Design and Features
From our patented RollerTrap® trap opener (the easiest to use in the industry) to our innovative aluminum-steel combo construction, Wilson trailers are designed to give you the performance you expect, the durability you can count on.
Our trailers offer features you need at a value our competitors find difficult to match. Contact us today to learn how Wilson Trailers can help you find the perfect trailer to fit your needs.

Gooseneck Livestock Trailer

Bumper Hitch Trailer